2012 Race For The Cure Q&A
CONGRATULATIONS TO OUR CAMERA WINNER!
Claudia Crowley won incentive prize #2, a pocket camera and memory card, by raising $5,800 in one week! You have until noon on Friday, May 11 to earn one of two pairs of Oakley sunglasses donated by Eye Design at Arden Fair Mall. Keep up the great work!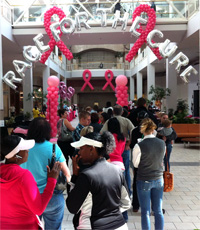 Where can I pick up my t-shirt and bib?
You can stop by in-person registration at Arden Fair Mall between May 5th and May 11th, we are open daily 10AM-6PM – go to Center Court (outside Nordstrom) and you'll find us under the pink balloons!
OR the registration booth opens at 6:00am on the morning of the Race, and you can pick up your items there.
Where can I pick up my team packet?
Visit the teams table at Arden Fair – but remember, packets will be pre-made only for sponsor teams and Official Team Captains that asked to have them premade.
If you haven't requested the packet, you can show up with your team roster and collect shirts and bibs for your entire team or you can have team members pick theirs up individually.
Can I pick up my friend's shirt and bib?
Yes, that will be fine.
Where can I get a pink back sign for "In Honor of" or "In Memory of"?
They will be available at In-Person Registration Week and Race Day at the Main Gate.
I'd like to buy Komen merchandise. Will you be selling at Arden Fair again?
There will be merchandise available at Arden Fair, plus we will have a store set up in the Expo building on Race Day. A limited number of items will also be sold next to Parking Lot C from 6-7:30 AM on Race Day.
I've been collecting donations – where can I drop them off?
You can bring them to in-person registration, to the Komen booth inside the Expo on Race Day, or you can mail them to First Northern Bank in Dixon (the address is on the donation form.)
Be sure to attach the form so that you get credit toward the incentives! All donations must be postmarked by May 26, 2012 to be credited for incentives.
What time does the race start?
The timed runners start at 7:45am and the walkers start at 8:05am. The 1 mile will start at 8:25am.
Can I bring my dog?
No. Dogs other than certified service dogs are not allowed on the grounds of Cal Expo. Cal Expo staff/security may ask you to leave if you have a dog.
Where can I park on Race Day?
Parking is free at Cal Expo. Park in lots A-D. Please DO NOT park in the neighborhood or businesses near around Cal Expo. Note: If you need to leave Cal Expo before 9:00am, do not park in Lots C or D. Park in lots A or B if you need to leave before 9:00am.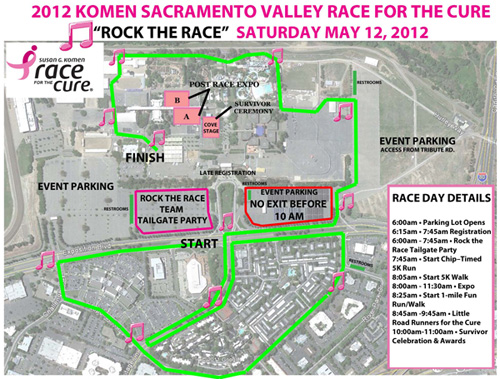 (click on map for larger version)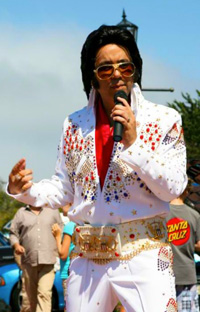 What will be happening inside the Expo?
ELVIS IS IN THE BUILDING! Yes, that's right – you can enjoy the music and have your photo taken with not one but TWO Elvis impersonators from Gig Masters!
Once you get past the food and pick up your scarf near the Ford cars, you'll find a number of taste treats to sample, activities, a fashion show, merchandise to buy, and more. The Expo will open at 8:00 AM and stay busy until the survivor ceremony starts at 10:00AM.
Where do I line up for the Survivor Ceremony?
Line up at the bridge near the Cove at 9:45am and wait for instructions to start the parade.
Have you negotiated special rates with any local hotels?

Are any restaurants or stores offering specials on Race Day?
Chevy's (on Howe Avenue near Hurley) – will open on Race Day at 10AM to serve breakfast. Wear pink and white or your bib and Chevy's will donate 15% of your total to Komen Sacramento.
California Pizza Kitchen at Market Square will donate 20% of the bill to Komen Sacramento if you wear your Race shirt and/or numbered bib when you dine there after the Race.
Dos Coyotes at Market Square is going pink starting by opening early on May 12 at 9:00 AM and will donate 10% of your order if you wear your Race shirt or pink!
Subway at Market Square will be donating 20% of your purchase on Race Day!
Eye Designs Optometry at Arden Fair will be offering 20% off your purchase to Race registrants!